<!— Ethnio Activation Code —>
Gas Valves & Controls
This category contains a wide variety of Honeywell gas valves including the V400 and V800 gas controls, pressure regulators, continuous pilot dual automatic valve combination gas controls, direct ignition gas controls, among many others.
Manuals -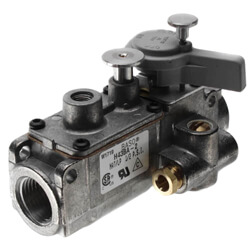 Baso gas valves automatically control main gas flow. Automatic pilot valves shut off both the main and pilot gases. Pilot gas is tapped from the main line within the control. Gas will flow only to the pilot burner when the reset button is depressed. The manual pilot valve stop can be adjusted for maximum pilot flow. …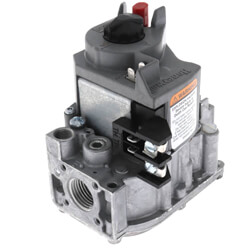 This category contains Honeywell SmartValve, Gas Controls, Millivolts, Pressure Regulators, Gas Control Parts and Industrial Gas Valves. …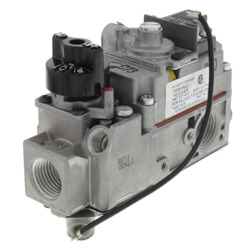 This category contains Robertshaw Gas Valves including 700, 710, 720, 722 Series and 1751 Regulator Kits. …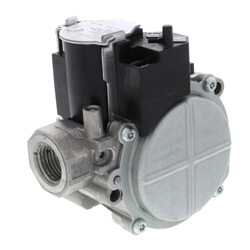 This category contains White Rodgers 36 Series Valves, Dryer Valves, and Thermocouple Valves. …
This section contains Solenoid Valves with aluminum bodies designed for air and vacuum service applications. These valves are ideal for low pressure applications. …
More About Gas Valves & Controls
Gas valves are used to regulate natural gas or liquid propane in heating systems. Gas valves vary in capacity (cubic ft of gas), inlet/outlet size, and type (standing pilot, slow opening, and step opening).

Gas valves and controls must match the heating system's fuel type. Liquid propane and natural gas conversion kits are available if the valve must be converted to meet a system's requirements. After the system type is verified, the system's capacity must be determined. Whether a normally open or normally closed gas valve is selected depends on the expected usage frequency of the valve.

A solenoid valve uses a solenoid to actuate the valve. This allows the flow of water, gas, or air to be controlled with electricity. A solenoid is a coil of wire that becomes magnetized when an electric current passes through it. Solenoids often have a hole in their center and a protruding metal rod that is pushed or pulled by magnetism when power is applied. Solenoid valves are best for continuous on/off cycling.

We carry a wide selection of Honeywell SmartValves, White Rodgers, Asco-RedHat, and Robertshaw gas valves & controls to suit all of your heating needs.