PEX-AL-PEX
PEX-AL-PEX differentiates itself from standard PEX with its Aluminum core. This allows it to expand less at high temperatures and hold its shape better than regular PEX.
Manuals -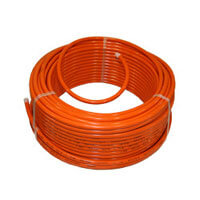 This category contains PEX-Aluminum-PEX (PEX-AL-PEX) tubing manufactured by Rifeng. Tubing is available in several sizes and lengths. …

Uponor Multi-layer Componsite (MLC) (formerly MultiCor) is a multi-layered composite tubing consisting of an interior aluminum pipe lined with inner and out layers of PEX (commonly referred to as PEX-al-PEX). Uponor MLC offers 100% oxygen diffusion and can be embedded in concrete or installed in walls, floors and ceilings. One of the best qualities of Uponor MLC tubing is that once is is shaped in a certain way, it will hold that shape. Uponor MLC tubing meets ASTM F1281 and is listed to NSF. The tubing is rated by the PPI for 200°F at 100 psi, 180°F at 125 psi, 140°F at 160 psi and 73.4°F at 200 psi. …

FostaPEX tubing adds aluminum and PE outer layers to the tubing to provide form stability and an oxygen barrier. FostaPEX can be bent and will hold its new shape - excellent for exposed runs in basements and baseboard connections. For use with the Viega press fittings only. …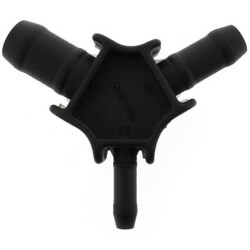 Includes chamfering tools and the Fostapex prep tool. The chamfering tools prepare Multicor and other PEX-al-PEX Tubing for making connections, as well as clean the inside of the tubing and re-round it for easier connections. The Fostapex prep tool peels the outer PE and aluminum layers from the FostaPEX tubing, allowing it to be compatible with the standard Viega PureFlow PEX Press system. …
About PEX-AL-PEX
PEX-AL-PEX, also called Aluminum PEX, is a 3-layer oxygen barrier PEX tubing. This tubing has an aluminum core that holds its shape when bent so you don't have to tie it down every few feet like traditional PEX tubing. PEX-AL-PEX has the same temperature/pressure ratings as regular PEX, however it is better suited for high temperature applications, such as baseboard and fan coils because the aluminum core allows the tubing to maintain its shape. PEX-AL-PEX also has a lower linear expansion rate, which means that it expands less than regular PEX or copper as it heats up.