T3 Pro Non-Programmable Thermostat (2H/1C)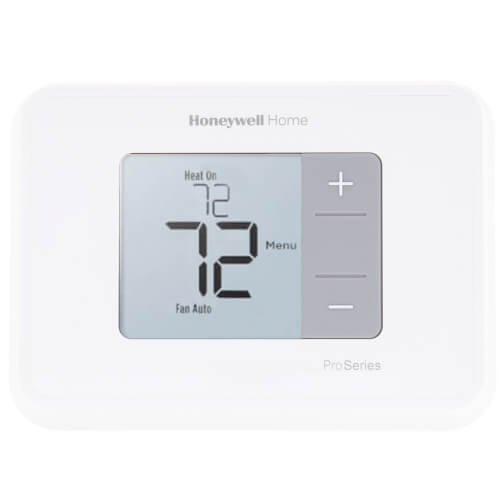 Hover image to zoom
In Stock
Order by today, receive Friday
Free Shipping On orders over $99
Easy Returns No restocking fee for 90 days
Non-Programmable
24v, 750mV, Low voltage
2 Heat/1 Cool (Heat Pump)
Horizontal
Hardwired, Battery
40°F - 99°F
The PRO series provides non-programmable thermostats for 24 Vac conventional and heat pump systems or 750 mV heating systems.
Features
Footprint covers the same space on the wall as the legacy PRO 3000 model.
UWP: Uses the same wall plate system as the rest of the T Series portfolio.
Non-Programmable.
Battery-powered, hard-wired, or both.
No C-wire adaptor (K terminal) option available.
Continuous backlight requires a common wire.
Adjustable range stops.
1 Heat/1 Cool Conventional.
2 Heat/1 Cool Heat Pump with Aux. Heat.
5-year warranty.
Notes: These models do not include an L terminal for heat pump fault, the ability to use wired sensors, and does not include dual fuel or auxiliary heat lockout or keypad lockout.
Stages:

2 Heat/1 Cool (Heat Pump)

Application:

Multi-Stage (Heat/Cool)

Heat Pump

Programmability:

Non-Programmable

User Interface:

Push Button

Mount:

Horizontal

Options:

Fan Control

Power Method:

Hardwired

Battery

Changeover:

Manual

Temperature Range (F):

40°F - 99°F

Wattage:

0.4 to 30

Frequency:

50 Hz

60 Hz

Voltage:

24v

750mV

Low voltage