High Limit Aquastat Controller, 100-180-Degree(F) Range, 5-Degree(F) Differential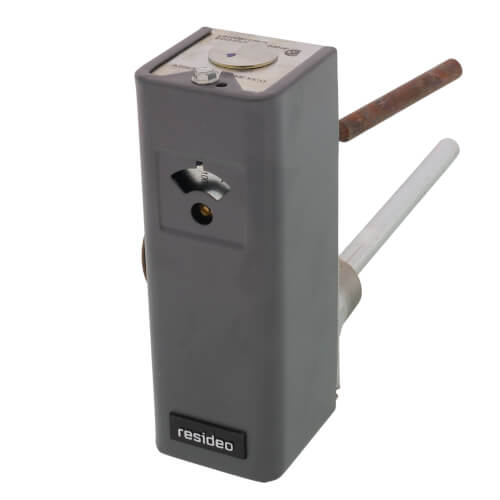 Hover image to zoom
In Stock
Order by 4PM, receive Monday
Free Shipping This item ships free
Easy Returns No restocking fee for 90 days
2A max @ 24 Vac
Fixed
Contacts Break on Temp Rise, SPST
Immersion Well
100°F to 180°F
5-5/8"
L8100A,B, and C are immersion type controllers for regulating and limiting the tank temperature in water heaters. As the water temperature rises past the setpoint, the controller switches off the gas valve.
Specifications:
Insulation Depth: 1-1/2 in.
Bulb Size: 3/8 in.
Capillary Length: 39 in.
Switching Action: SPST, contacts break on temperature rise.
Electrical Ratings (millivolt): 2A maximum at 24 Vac.
Differential Temperature (F) Controller: 5 F, fixed.
Energy Cutoff Switch: 20 F, fixed.
Maximum Ambient Temperature (F) Maximum Tank: 210F
Temperature Rating (ECO) Energy Cutoff: 200 F
Mounting: Immersion Well
Features:
Regulates temperature and provides energy cutoff (ECO) action on a temperature rise past the setpoint.
Includes a second sensing element that senses average water temperature to minimize stacking.
Fluid-filled element operates Micro Switch? SPST snap-acting switch.
ECO switch interrupts the thermocouple circuit or main valve before tank reaches 210 F (99 C) maximum temperature.
Includes factory-installed immersion well on controller.
Internal adjustment screw.
Special switch terminal provides three-wire hookup from Aquastat® controller to gas valve.
Application:

High Limit

Bulb Size:

3/8"

Capillary Length:

39"

Switch Action:

Contacts Break on Temp Rise

SPST

Temperature Range (F):

100°F to 180°F

Electrical Rating:

2A max @ 24 Vac

Max Temp Differential:

5°F

Differential:

Fixed

Max Ambient Temp (°F):

Maximum Tank: 210 F

Height:

5-5/8"

Width:

2"

Depth (Inches):

2-1/8"

Mount:

Immersion Well

Temperature Rating:

Energy Cutoff: 200°F