High Limit Protection, Low Limit & Circulator Vertical Mount Triple Aquastat Relay, High=10-Degree(F), Low Limit=10-25-Degree Adj Differential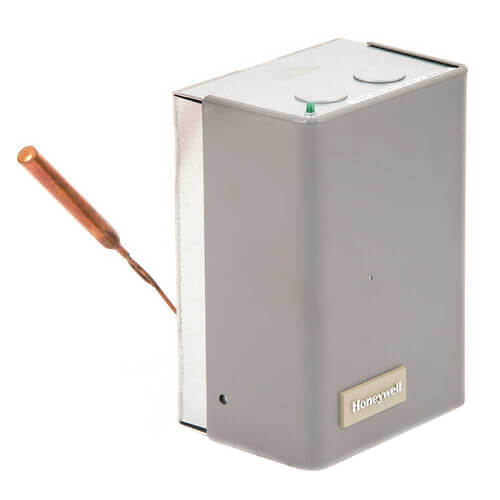 Hover image to zoom
In Stock
Order by 4PM, receive Monday
Free Shipping This item ships free
Easy Returns No restocking fee for 90 days
Circulator: 7.4 A @ 120 Vac, Burner: 7.4 A @ 120 Vac, Burner: 3.7 A @ 240 Vac
Fixed, 10° to 25°F (Low Limit), Adjustable
Vertical
130°F to 240°F, 110°F to 220°F
6-1/8"
3-1/16" Depth
Features
Immersion-type controllers that combine high limit protection with low limit and circulator control in forced hydronic heating systems.
Provide multizone control by using a separate circulator and R845 Relay for each zone.
Include diaphragm powerhead and Micro Switch+ assembly that respond to temperature changes in boiler water.
Mount directly to boiler.
Select models include large transformers and extra terminals for supplying power to low voltage zone
Require 24 Vac thermostat with heat anticipator set at 0.2 A (plus current draw of gas valve on L8124E).
Product Specifications
Description: High Limit Protection, Low Limit and Circulation Control Triple Aquastat Relay with High limit : 10 F fixed; low limit: 10-25 F adj. Differential
Application: High Limit Protection, Low Limit and Circulation Control
Operating Range, Low Limit (F): 110 F to 220 F adj.
Operating Range, Low Limit (C): 43 C to 104 C adj.
Operating Range, High Limit (F): 130 F to 240 F adj.
Operating Range, High Limit (C): 54 C to 116 C adj.
Differential Temperature (F): High limit : 10 F fixed; low limit: 10-25 F adj.
Maximum Safe Operating Pressure (psi): 200 psi on outside of immersion well, 100 psi on capsule if inserted directly.
Maximum Safe Operating Pressure (kPa): 1378 kPa on outside of immersion well, 690 kPa on capsule if inserted directly.
Electrical Ratings (burner AFL): 7.4 A @ 120 Vac
Electrical Ratings (burner AFL): 3.7 A @ 240 Vac Electrical Ratings (burner ALR): 44.4 A @ 120 Vac
Electrical Ratings (burner ALR): 22.2 A @ 240 Vac
Electrical Ratings (circulator AFL): 7.4 A @ 120 Vac
Electrical Ratings (circulator AFL): 3.7 A @ 240 Vac
Electrical Ratings (circulator ALR): 44.4 A @ 120 Vac
Electrical Ratings (circulator ALR): 22.2 A @ 240 Vac Voltage: 120 Vac
Dimensions (in.): 6 1/8 in. high x 4 3/8 in. wide x 3 1/16 in. deep
Dimensions (mm): 156 mm high x 111 mm wide x 78 mm deep
Insulation Depth (in.): 3 in.
Insulation Depth (mm) 76 mm
Mounting: Vertical Mount
Operating Humidity Range (% RH): 0 to 95% RH, non-condensing
Maximum Ambient Temperature (F): 150 F at switches, 265 F at sensing element.
Maximum Ambient Temperature (C): 66 C at switches, 129 C at sensing element.
Approvals, Underwriters Laboratories Inc UL Listed (models with well): File No. MP466, Guide No. MBPR; UL Component Recognized (models without well): File No. MP466, Guide No. MBPR2
Approvals, Canadian Standards Association Certified: File No. LR1620, Guide No. 400-E-O
Application:

Low Limit

Triple Aquastat Relay

Circulator Control

High Limit

Temperature Range (F):

130°F to 240°F

110°F to 220°F

Electrical Rating:

Circulator: 7.4 A @ 120 Vac

Burner: 7.4 A @ 120 Vac

Burner: 3.7 A @ 240 Vac

Electrical Ratings (ALR):

Circulator: 44.4 A @ 120 Vac

Burner: 22.2 A @ 240 Vac

Burner: 44.4 A @ 120 Vac

Max Temp Differential:

10°F

25°F

Differential:

Fixed

10° to 25°F (Low Limit)

Adjustable

Min Temp Differential:

10°F

Height:

6-1/8"

Width:

4-3/8"

Depth (Inches):

3-1/16"

Operating Humidity:

0% to 95% (non-condensing)

Max Ambient Temp (°F):

150 F at Switches

265 F at Sensing Element

Mount:

Vertical

Voltage:

120v

Max Pressure (PSI):

100 (Direct Immersion)

200 (Immersion Well)

Connection Type:

Quick-Connect