Combination Protector Relay & Hydronic Heating Control w/ High Limit: 10 F fixed, Low Limit/Circulator (10F to 25F)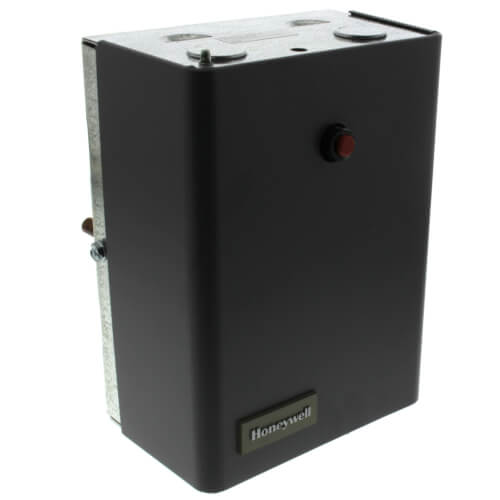 Hover image to zoom
In Stock
Order by today, receive Wednesday
Free Shipping This item ships free
Easy Returns No restocking fee for 90 days
120v
130°F to 240°F, 110°F to 220°F
Vertical
SPST
Burner: 4.4 A @ 120 Vac
7-1/8"
Immersion type Aquastat controller and oil burner primary control provides high limit and low limit/circulator control for oil-fired hydronic heating systems.
Specifications
Use in intermittent ignition applications.
Capable of zone control with zone valves.
Circulator zone control with ZC and ZR terminals on R8182D,E,H,J. 8 Flame failure during the running cycle results in a 45 second attempt to restart.
If unsuccessful, safety shutoff occurs, requiring manual reset before burner can be restarted.
R8182D,E,F mount directly on burner; R8182H,J mount on 4 x 4 in. junction box and include 5 ft (1.5 m) armored capillary with remote sensor.
C554A Cadmium Sulfide Flame Detector and a 24 Vac thermostat required.
Features
Description: Combination Protectorelay and Hydronic Heating Control with High limit: 10 F fixed; low limit/circulator: 10 F to 25 F adj. Differential
Switching Action: SPST
Operating Range, Low Limit (F): 110 to 220 F
Operating Range, High Limit (F): 130 to 240 F
Differential Temperature: High limit: 10 F fixed; Low limit/circulator: 10 F to 25 F adj.
Anticipator Setting: .2A
Maximum Safe Operating Pressure (psi): 200 psi on immersion well; 100 psi direct immersion.
Electrical Rating (ignition): 360 VA
Electrical Ratings (burner AFL): 4.4 A @ 120 Vac
Voltage: 120 Vac
Frequency: 60 Hz
Timing Safety Switch: 45 sec
Maximum Power Consumption: 9W
Dimensions: 7 1/8 in. high x 5 1/4 in. wide x 3 7/16 in. deep.
Insulation Depth (in.): 1-1/2 inch
Mounting: Vertical Mount
Operating Humidity Range: 0 to 95% RH, non-condensing
Max Ambient Temp: 250 F at element
Includes: Auxiliary ZC and ZR terminals may be used to provide circulator zone control through an R845A Switching Relay. Heat-conductive compound and vertical case
Application:

Low Limit

High Limit

Switch Action:

SPST

Electric Ratings (Ignition):

360 VA

Electrical Ratings (ALR):

Burner: 26.4 A @ 120 Vac

Electrical Rating:

Burner: 4.4 A @ 120 Vac

Temperature Range (F):

130°F to 240°F

110°F to 220°F

Height:

7-1/8"

Differential:

Fixed

10° to 25°F (Low Limit)

Adjustable

Max Temp Differential:

10°F

Width:

5-1/4"

Depth (Inches):

3-7/16"

Operating Humidity:

0% to 95% (non-condensing)

Mount:

Vertical

Max Ambient Temp (°F):

250 F at Element

Anticipator Rating:

0.2 A

Voltage:

120v

Frequency:

60 Hz

Max Pressure (PSI):

200 (Immersion Well)

100 (Direct Immersion)

Timing Safety Switch:

45 sec

Max Power Consumption:

9 W

Min Temp (F):

110°F

Max Temp (F):

240°F