Single-Pole Combination Single Toggle Switch & Single Receptacle, 15A - Light Almond (120/125V)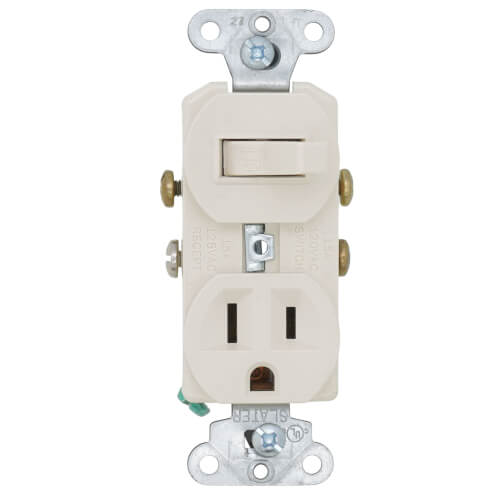 Hover image to zoom
In Stock
Order by today, receive Wednesday
Free Shipping On orders over $99
Easy Returns No restocking fee for 90 days
15 Amps
120v, 125v
Residential, Commercial
Light Almond
Note: This model is not tamper resistant. Please check your local electrical code to confirm this product has been approved in your area.
Single-Pole Combination Single Toggle Switch & Single Receptacle, 15A - Light Almond (120/125V)
Product Features
Easily accessible break-off separate or common feed.
Long-life red neon lamp in pilot light rated 1/25 Watt, 125V.
Side wire #12 and #14 AWG.
Two devices fit into the space of one.
Grounding combination devices meet NEC Requirements.
Tamper-resistant version features dual mechanical shutter system to help prevent insertion of foreign objects.
Application:

Light Switch

Amperage:

15

Voltage:

120v

125v

Poles:

1

Grade:

Residential

Commercial

Ground:

Grounding

Color:

Light Almond