High & Low Limit Aquastat, High = 10°F Diff, Low = 10-25-Degree Adj Differential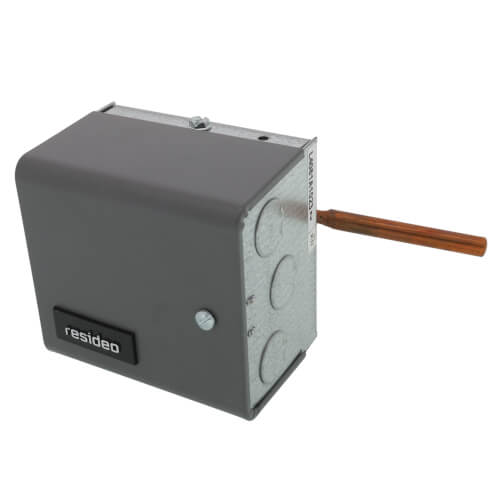 Hover image to zoom
In Stock
Order by 4PM, receive Monday
Free Shipping This item ships free
Easy Returns No restocking fee for 90 days
8A @ 120 Vac, 0.25 A @ 0.25 to 12 Vdc, 5.1A @ 240 Vac
10° to 25°F (Low Limit), Adjustable, Fixed
SPST
Horizontal
110°F to 220°F, 130°F to 240°F
3-7/8"
Features
An immersion type liquid-filled sensing element actuates two snap switches.
One switch operates as a high limit control.
The other switch operates as a low limit and/or circulator control, depending on the model.
Controller may be mounted in any positioning and needs no leveling.
Separate, easy-to-read, calibrated dial and setpoint adjustments for each switch.
Differential adjustment on low limit or circulator switch.
All adjustments accessible inside front cover.
Push-in terminals for quick connecting.
Single sensing element for easy installation.
Two SPST snap switches act independently at respective temperature settings.

Product Specifications
Description: High and Low limit Aquastat Controller with High limit : 10 F fixed; low limit: 10-25 F adj. Differential
Application: High and Low limit
Operating Range, Low Limit (F): 110 F to 220 F
Operating Range, Low Limit (C): 43 C to 104 C
Operating Range, High Limit (F): 130 F to 240 F
Operating Range, High Limit (C): 54 C to 116 C
Differential Temperature (F): High limit : 10 F fixed; low limit: 10-25 F adj.
Switching Action: SPST: High & Low Limit
Electrical Ratings (AFL): 8A @ 120 Vac
Electrical Ratings (AFL): 5.1A @ 240 Vac
Electrical Ratings (ALR): 48A @ 120 Vac
Electrical Ratings (ALR): 30.6A @ 240 Vac
Electrical Ratings: 0.25 A @ 0.25 to 12 Vdc
Electrical Rating (ignition): Transformer
Load: 360 VA
Spud Size (in.): 3/4 in. - 14 NPT
Dimensions (in.): 3 7/8 in. high x 4 1/8 in. wide x 2 3/4 in. deep.
Dimensions (mm): 98 mm high x 105 mm wide x 70 mm deep.
Insulation Depth (in.): 1 1/2 in.
Insulation Depth (mm): 38 mm
Mounting: Horizontal
Operating Humidity Range (% RH): 0 to 95% RH, non-condensing
Maximum Ambient Temperature (F): 150 F at switches; 265 F at sensing element
Maximum Ambient Temperature (C): 66 C at switches; 129 C at sensing element
Approvals, Underwriters Laboratories Inc UL Listed: File No. MP466, Vol. 12, Sec. 4, Guide No. MBPR2
Approvals, Canadian Standards Association Certified: File No. LR95329-1
Application:

Low Limit

High Limit

Switch Action:

SPST

Well Spud Size:

3/4" to 14 NPT

Temperature Range (F):

110°F to 220°F

130°F to 240°F

Electrical Rating:

8A @ 120 Vac

0.25 A @ 0.25 to 12 Vdc

5.1A @ 240 Vac

Electric Ratings (Ignition):

Transformer Load: 360 VA

Electrical Ratings (ALR):

48A @ 120 Vac

30.6A @ 240 Vac

Differential:

10° to 25°F (Low Limit)

Adjustable

Fixed

Max Temp Differential:

25°F

10°F

Min Temp Differential:

10°F

Max Ambient Temp (°F):

150 F at Switches

265 F at Sensing Element

Height:

3-7/8"

Width:

4-1/8"

Depth (Inches):

2-3/4"

Well Included:

No

Mount:

Horizontal

Operating Humidity:

5% to 95% (non-condensing)