24v Electric Heater Relay w/ DPST Switching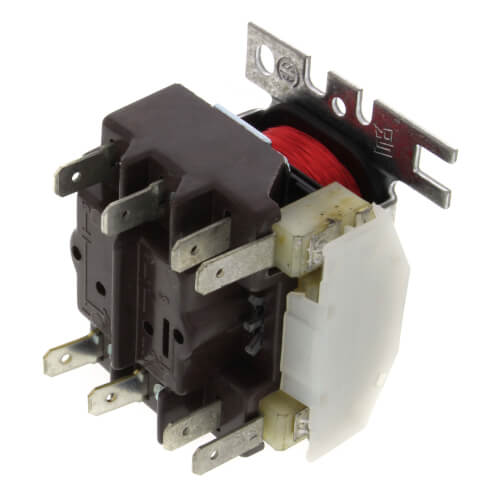 Hover image to zoom
In Stock
Free Shipping On orders over $99
Easy Returns No restocking fee for 90 days
24v
2-3/16"
2-1/4" Depth
Normally Closed
Normally Closed Relays And Contactors For Load Control Systems.
Features
Close and leave load operating in case of wiring or control problem, or relay malfunction.
Consume no power while load is powered; require power only to shed load.
Operate directly from a pilot duty rated relay in the load control system.
Application:

Refrigeration

Air Conditioning

Voltage:

24v

Type:

DPST

Electrical Ratings (AFL):

7 A @ 120 VAC

7 A @ 277 VAC

7 A @ 240 VAC

7 A @ 208 VAC

3.5 A @ 480 VAC

2.8 A @ 600 VAC

Electrical Ratings (ALR):

35 A @ 120 VAC

17.5 A @ 480 VAC

35 A @ 208 VAC

14 A @ 600 VAC

35 A @ 240 VAC

35 A @ 277 VAC

Electrical Ratings (Resistive):

10 A @ 600 VAC

12.5 A @ 480 VAC

25 A @ 277 VAC

25 A @ 120 VAC

25 A @ 208 VAC

25 A @ 240 VAC

Coil Ratings:

24v

Hertz:

50

60

Height:

2-3/16"

Width:

2-3/32"

Depth (Inches):

2-1/4"

Wiring:

#10 Combo Head Screws

Operating Temp Range:

-40° to 165°F

Position:

Normally Closed