Mini-Rester Water Hammer Arrestor - 3/8" O.D. Compression x 3/8" O.D. Female Compression Tee (Lead Free)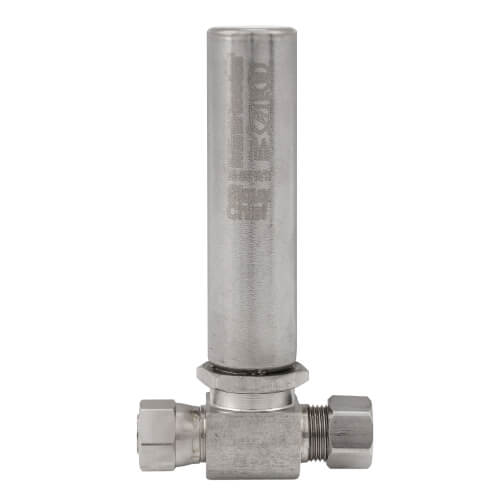 Hover image to zoom
In Stock
Order by today, receive Wednesday
Free Shipping On orders over $99
Easy Returns No restocking fee for 90 days
3/8"
Compression x Female Compression Connection
250°F Max Temp
Nickel Plated
Brass, Stainless Steel
Yes
Sioux Chief 660-GTR piston-type water hammer arresters shall be installed where required on supply valves. Water hammer arresters shall be specifically sized and have sufficient volume of air to dissipate the calculated kinetic energy generated by closing residential or commercial faucets or valves. Arresters shall be installed on both hot and cold lines on the supply stops where applicable. Arresters shall be approved for installation with no access panel required.
Specifications
Install MiniRester compression connections to supply stops and supply lines.
Arrester body: 304 stainless steel
Piston: polypropylene with two EPDM o-rings
Tee body: nickel-plated no-lead machined brass
Body Type:

Tee

Application:

Plumbing

Size:

3/8"

Connection Method:

Compression

Connection Type:

Compression x Female Compression

Max. Working Pressure:

350 psi

Max Temp (F):

250°F

Finish:

Nickel Plated

Material:

Brass

Stainless Steel

Lead Free:

Yes