High Limit, Manual Reset Aquastat Controller w/ 130-Degree (F) to 270-Degree (F) Operating Temp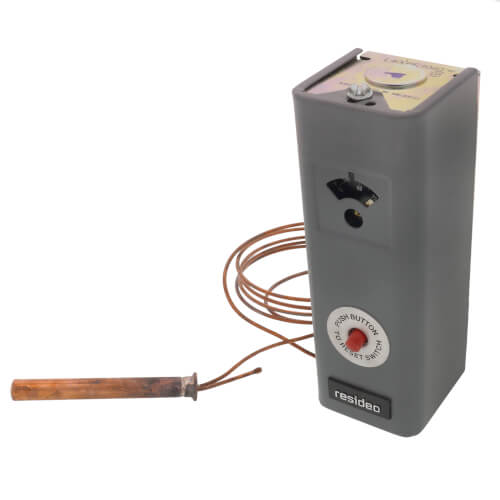 Hover image to zoom
In Stock
Order by 4PM, receive Monday
Free Shipping This item ships free
Easy Returns No restocking fee for 90 days
Manual Reset
SPST, Contacts Break on Temp Rise
Horizontal, Vertical
130°F to 270°F
270°F Max Temp
130°F Min Temp
Overview
For limiting or regulating temperature of liquids in boilers or tanks. Can also sense duct or outside air temperature.
Features
Remote temperature sensing element detects and responds rapidly to temperature changes.
Totally enclosed Single Pole Single Throw (SPST) Micro Switch™ snap-acting switch.
Visible control point scale and external adjustment screw permit easy setting.
Horizontal and/or vertical mounting of the remote element into boiler, tank, or other container unless otherwise noted.
UL and CSA listed limit device.
Product Specifications
Hazmat Information: UN 1294, TOLUENE, 3, II
Application: High Limit; Manual Reset
Dimensions (in.): Case--5 5/8 in. high x 2 in. wide x 2 1/8 in. deep
Dimensions (mm): Case--143 mm high x 51 mm wide x 54 mm deep
Comments: Stop factory set at 250 F
Mounting: Horizontal or Vertical
Electrical Ratings: Millivolt--0.25 A @ 0.25 to 12 Vdc; At Full Load-- 8A @ 120 Vac: 5.1A @ 240 Vac; At Locked Rotor-- 48A @ 120 Vac: 30.6A @ 240 Vac
Approvals, Underwriters Laboratories Inc.: UL Component Recognized: File No. MP466, Vol. 6, Sec.1, Guide No. MBPR2
Approvals, CSA: Certified: File No. LR95329-1
Operating Temperature Range (F): 130 F to 270 F
Operating Temperature Range (C): 54 C to 132 C
Bulb Size (in.): 3/8 in. x 2 7/8 in. copper
Bulb Size (mm): 10 mm x 73 mm copper
Differential Temperature (F): Manual Reset
Differential Temperature (C): Manual Reset
Switching Action: SPST, contacts break on temperature rise.
Capillary Length (in.): 66 in. (5-1/2 ft)
Application:

High Limit

Manual Reset

Bulb Size:

3/8" x 2-7/8"

Capillary Length:

66"

Temperature Range (F):

130°F to 270°F

Mount:

Horizontal

Vertical

Differential:

Manual Reset

Switch Action:

SPST

Contacts Break on Temp Rise

Max Temp (F):

270°F

Min Temp (F):

130°F