SaniCondens Best Flat Condensate Pump, 500k BTU, 120V, 1/30 HP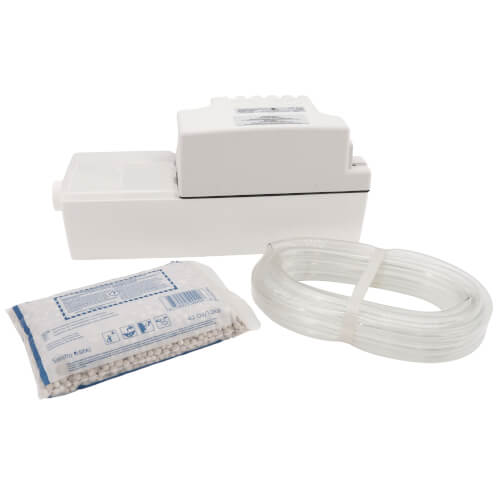 Hover image to zoom
In Stock
Order by today, receive Wednesday
Free Shipping This item ships free
Easy Returns No restocking fee for 90 days
120v
1/30 HP
White
3 Year Warranty
1.5 Amps
160°F Max Temp
The Sanicondens Best Flat is a low profile pump used to neutralize and pump condensate from condensing boilers, HVAC systems, water heater systems, etc. The Sanicondens Best Flat will pump condensate waste up to 15 feet in height and/or 150 feet away from a soil stack.
Product Features
Discharges the condensate waste through a 3/8" vinyl tube. A non-return valve is included on the discharge connection provided with the system.
Comes with provisions for a ready-to-wire connection to an external overflow switch that will shut down the appliance or alert the consumer in the event of overflow. It also includes all necessary hardware for ease of installation; 20 Ft of vinyl tubing, inlet adapter, discharge adapter.
Discharges condensate from a condensing boiler or other condensate producing fixtures. The condensate will drain into the system via a side inlet or through a couple of inlets on top of the enclosure.
Comes equipped with a built-in neutralizer to raise pH levels for harsh HVAC applications. Neutralizing granules come included with the condensate pump. Will neutralize condensate from appliances up to 500,000 BTU/hour input.
| | |
| --- | --- |
| Product Type: | Pump |
| Color: | White |
| Warranty: | 3 Year |
| Amperage: | 1.5 |
| Voltage: | 120v |
| Max Temp (F): | 160°F |
| Hertz: | 60 |
| Horse Power: | 1/30 |
| Cord Length: | 61.5" |