Model-Y1, 1" FPT Non-Freeze Yard Hydrant (4 Ft. Burial Depth)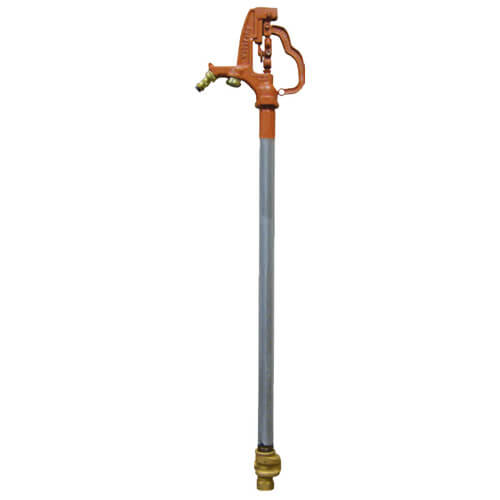 Hover image to zoom
In Stock
Order by 5PM, receive Tuesday
This product does not comply with the "Safe Drinking Water Act," which requires that products meet low-lead standards in order to be used in systems providing water for human consumption (drinking or cooking). This item is for non-potable (non-human consumption) water applications only.
Free Shipping This item ships free
Easy Returns No restocking fee for 90 days
1"
FNPT
No
120°F Max Temp
Overall Length of this product is 84-1/2". Please check Submittal Sheet file for details.
The Woodford Y1-4 Freezeless Iowa Yard Hydrant lets you have the water you need for your outside tasks throughout the year even in freezing conditions. This yard hydrant from Woodford is recommended for irrigation purposes. It is ideal for filling field spray equipment and cleaning tools and equipment. It is also great for lawn and garden care. It provides immediate water flow even in sub-zero temperatures. The Woodford Y1-4 Iowa Freezeless Yard Hydrant has a bury depth of 4 feet (71 ½" Long) and it has a 1/8" tapped national pipe thread drain hole that is positioned below the frost line. The automatic draining occurs through this drain hole when the hydrant is shut off. This freezeless Iowa yard hydrant from Woodford has a 1" national pipe thread female inlet. The Woodford Y1-4 yard hydrant has a solid construction which makes it rugged and dependable. All Woodford Model Y1 products carry a warranty for 5 years against defects in workmanship and materials.
Features:
Lever Handle
Female Inlet: 1 N.P.T.
Casing: 1 Galvanized Steel Pipe
Operating Rod: Galvanized Steel Pipe
Hydrant drains when shut off, even with hose attached.
Provides easy and positive adjustment of the lever lock tension.
Rod Guide -Eliminates side pull on rod, reduces wear on packing, packing nut & stem.
Flow Finder with Lock - A simple cam that can be set to automatically obtain the same flow each time or lock against accidental opening.
Graphite packing for lubricity and long life.
Maximum Working Pressure: 125 p.s.i.
Maximum Temperature: 120 F
All Woodford Model Y1 products carry a warranty for 5 years against defects in workmanship and materials.
Woodford is a trusted leader in the industry and its products are made in the USA..
Product Type:

Yard Hydrant

Bury Depth:

4'

Size:

1"

Overall Size:

72-1/2"

Inlet Type:

FNPT

Max Operating Pressure:

125 psi

Max Temp (F):

120°F

Lead Free:

No

Application:

Commercial

Residential