Evergreen CM Replacement Blower Motor, 1/2 HP (208-230/277V)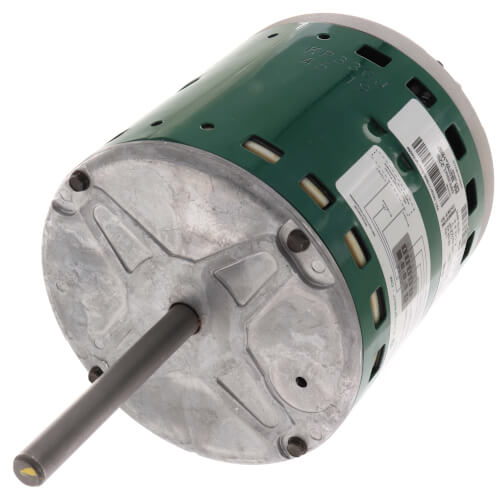 Hover image to zoom
Backorder
Get it 
Thu, Dec 28 - Fri, Jan 5
Free Shipping This item ships free
Easy Returns No restocking fee for 90 days
230v, 208-230/277V, 277v, 208v
1075 RPM
Reversible
1/2 HP
Round
4.1, 3.6 Amps
Benefits:
Efficiency up to 80%
Ready for Building Automation System Control interface using a PWM speed controller such as manufactured by Evolution Controls.
Air balancing using up to 5 speeds with normal 24VAC/18VDC or by using an ECM PWM Speed Controller.
Constant torque with better External Static Pressure
Control than standard PSC motors.
Soft Start and Off Ramp for quieter operation
Encapsulated Electronics
Improved High Static CFM performance
2 Year Warranty

Specifications:


Variable speed, constant torque, brushless DC motor 208-230/277VAC single-phase input, 50/60Hz
Designed for direct-drive blower replacement applications in commercial building systems such as
Series VAV boxes and Packaged Heat Pumps.
Available in 1/3, 1/2, 3/4 and 1HP ratings
Automatically determines motor direction using Genteq's Rotation Sensing Technology.
5 discrete speeds using 24VAC (3 using 18VDC)
Variable Speed Control using Auto-switch mode.
Motor switches to variable speed mode when a PWM input is detected. (Evolution Controls and Hoffman Controls make PWM speed controls for Genteq ECM Motors with manual screw adjustment, 0-10VDC, or 4-20mA inputs)
Operating speed range of 600-1200 rpm
NEMA 48-frame (5.6 inch diameter) Belly Band Mount with 4-inch long 1/2" diameter shaft.
UL and CSA recognized component.
Horse Power:

1/2

Type:

ECM

Voltage:

230v

208-230/277V

277v

208v

Phase:

1

Duty:

Continuous Air Over

Rotation:

Reversible

RPM:

1075

Amperage:

4.1

3.6

Mount:

Round

Bearings:

Ball

Speeds:

5

Enclosure Type:

Open Air Over

Poles:

12

Insulation Class:

B

Overload Protection:

None

Frame:

48

Max Ambient Temp (°F):

104°F

Motor Orientation:

Horizontal

Approvals:

UL

CSA