Combi 11 GPH Universal Voltage Condensate Removal Pump (120/240V)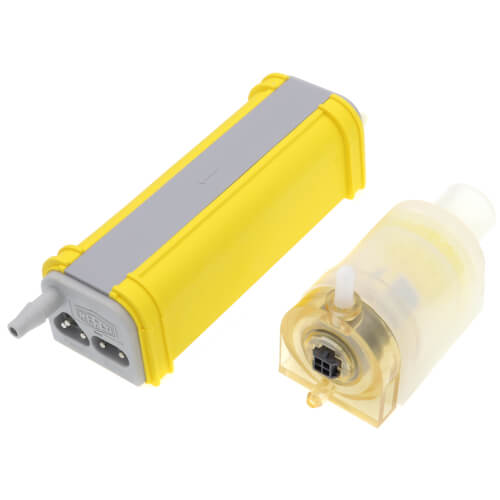 Hover image to zoom
In Stock
This item replaces: 
3004046
Free Shipping This item ships free
Easy Returns No restocking fee for 90 days
120v, 240v
Please note: The wiring for this pump has changed from all previous versions. You MUST REMOVE ALL OLD WIRING. NEW power and alarm wires are included. New wires MUST be used and grounded when installing this new pump. Please be sure to follow new installation instructions

Part number change from 3004046 to 3004146 is because Refco added a ground wire to the power wiring harness and removed a wire from the alarm relay wiring harness that was not being used.

If a previously installed 3004046 Combi needs to be removed, a contractor will need to also remove the present wires and replace them with the wires provided with the new part number Combi.
The Combi condensate pump is an entirely new design specifically manufactured for use in duct-free air conditioning split systems. The Combi is full of custom features that are unique to the world market. The flow range, optional configuration and universal voltage allow both installing contractors and wholesalers to stock and use a single product that fulfills all your requirements.
Technical Specifications:
Maximum flow rate: 11 GPH (42 l/h)
Maximum suction: 9.80 ft. (3 m) self priming
Maximum head: 65.60 ft. (20 m)
Sound: 20dBA at 3 ft. (1m) / 19 dBA at 1 m EN ISO 3744:2010
Wireless access: Remote wireless access with smartphone (optional feature)
Voltage: 100 ~ 240 VAC 50/60 Hz auto sensing universal power input
Power: 8 watts during maximum operation at 110V
Alarm relay: 10 Amps NO/NC contacts with integratedd replaceable HRC 10A glass fuse 5 × 20 mm
Weight: 0.63 Lbs. (285g)
Discharge star tube: 1/4" I.D. (6.25 mm) × 3.3 ft. (1 m)
Protection: Class II double insulation, Fully potted, IP-44
Operation temp: Ambient 37.5°F to 104°F (3°C to 40°C) / Water 41°F to 77°F (5°C to 25°C)
Compliance: Conforms to UL: 778 and certified to CSA C22.2 #68
Product Type:

Condensate Pump

Voltage:

120v

240v

Hertz:

50

60

Shutoff Head (ft.):

65'