Model-Y34, 3/4" FPT Non-Freeze Yard Hydrant w/ Automatic Draining (1 Ft. Burial Depth)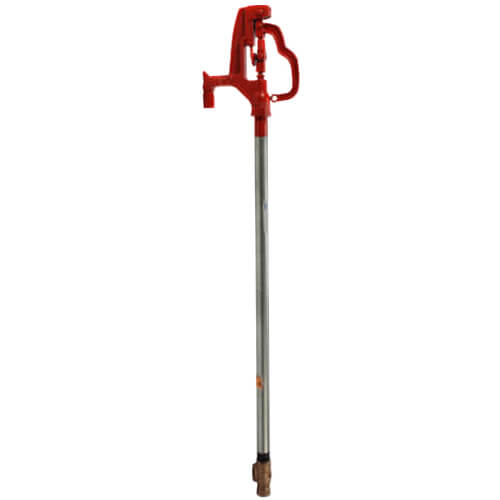 Hover image to zoom
In Stock
This product does not comply with the "Safe Drinking Water Act," which requires that products meet low-lead standards in order to be used in systems providing water for human consumption (drinking or cooking). This item is for non-potable (non-human consumption) water applications only.
Free Shipping This item ships free
Easy Returns No restocking fee for 90 days
3/4"
FNPT
No
120°F Max Temp
Overall Length of this product is 48-1/2". Please check Submittal Sheet file for details.
Iowa hydrants are intended for irrigation purposes and used for filling field spray equipment, cleaning tools and equipment, lawn and garden care, watering livestock - immediate water flow even in sub zero temperatures.
Specifications:
Female Inlet: 3/4" NPT
Casing: 1" Galvanized Steel Pipe
Operating Rod: 3/8" Galvanized Steel Pipe
Drain Hole: Tapped - 1/8" N.P.T.
Removable Nozzle: 3/4" Brass Male Hose Nozzle
Features:
Adjustable Link - Provides easy and positive adjustment of the lever lock tension.
Rod Guide - Eliminates side pull on rod, reduces wear on packing, packing nut & stem.
Flow Finder and Lock - A simple cam that can be set to automatically obtain the same fl ow each time or lock against accidental opening.
Long Life Packing - Graphite packing for lubricity and long life.
One Piece Variable Flow Plunger - Large cushion type seal for longer life - is not easily damaged and assures shut-off even when foreign particles are present. Automatic drain feature - plunger opens drain to prevent freezing - closes at any fl ow to prevent wasting water.
Maintenance & Repair - Woodford has manufactured the IOWA hydrant since 1929, and although many improvements have been made through the years, all parts are interchangeable. All repairs can be made from top of unit without removing hydrant from the ground.
Maximum Working Pressure: 125 p.s.i.
Maximum Temperature: 120 degrees F
Product Type:

Yard Hydrant

Bury Depth:

1'

Size:

3/4"

Overall Size:

48-1/2"

Inlet Type:

FNPT

Max Operating Pressure:

125 psi

Max Temp (F):

120°F

Lead Free:

No

Application:

Commercial

Residential