2-1/2" Stainless Steel Liquid Filled Gauge, 1/4" Bottom NPT w/ Brass Internals (0-30 PSI)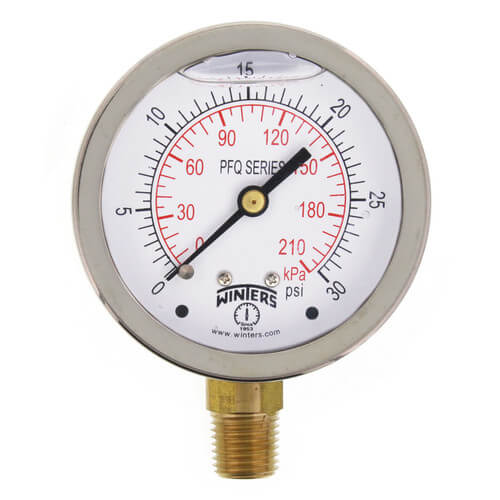 Hover image to zoom
In Stock
Free Shipping On orders over $99
Easy Returns No restocking fee for 90 days
1/4" NPT Connection
30 PSI
Stainless Steel, Polycarbonate
Bottom
Description & Features:
Pulsation resistant, liquid filled stainless steel case
Glycerin filled standard
Brass and stainless steel internals
Restricted orifice
Crimp-On bezel
CRN registered
5 year warranty
Applications:
Ideal for pumps, compressors, hydraulic presses, machinery, pneumatic equipment and motors in harsh environments
Note: Do not use this item for any installation or repair of potable water applications.

This product does not comply with the "Safe Drinking Water Act," which requires that products meet low-lead standards in order to be used in systems providing water for human consumption (drinking or cooking).

This item is for non-potable (non-human consumption) water applications only.
Type:

Liquid Filled

Product Type:

Pressure Gauge

Dial Size:

2-1/2"

Connection Type:

1/4" NPT

Measures:

Pressure

Application:

Pressure

PSI Range:

0-30

Max Pressure (PSI):

30

Material:

Stainless Steel

Polycarbonate

Accuracy:

± 1.5%

Movement:

Brass

Socket:

Brass

Bourdon Tube:

Brass

Mount:

Bottom