High or Low Limit Aquastat, 40-Degree(F) to 180-Degree(F) Range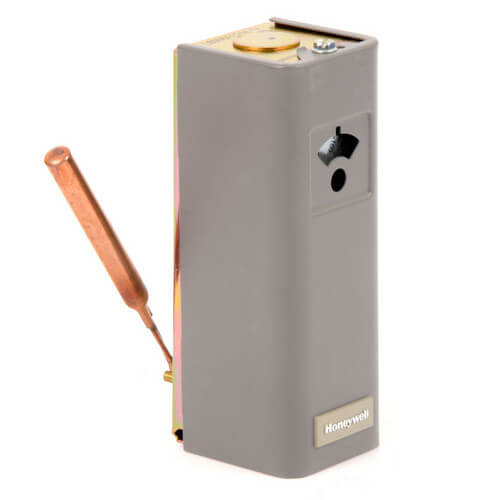 Hover image to zoom
In Stock
Order by 4PM, receive Monday
Free Shipping This item ships free
Easy Returns No restocking fee for 90 days
5.1A @ 240 Vac, 8A @ 120 Vac, 0.25 A @ 0.25 to 12 Vdc
Fixed
SPST, Contacts Break on Temp Rise
Horizontal, Vertical
5-5/8"
2-1/8" Depth
Aquastat+ Controllers are immersion type devices for limiting or regulating the temperature of liquids in boilers, storage tanks, and other applications where temperature control is required.
Features:
Totally enclosed Micro Switch+ snap-acting switches operate on temperature rise to setpoint.
Visible control point scale and external adjustment screw permit easy setting.
Horizontal or vertical insertion of the sensing element.
Direct or well immersion of the sensing element.
Models available for strap-on mounting.
Remote bulb model may be used to sense air temperature in ducts and in outside air sensing applications.
Select models have wells.
Application:

Low Limit

High Limit

Bulb Size:

3/8" x 2-7/8"

Capillary Length:

3"

Switch Action:

SPST

Contacts Break on Temp Rise

Electrical Rating:

5.1A @ 240 Vac

8A @ 120 Vac

0.25 A @ 0.25 to 12 Vdc

Electrical Ratings (ALR):

30.6A @ 240 Vac

48A @ 120 Vac

Max Temp Differential:

2°F

Differential:

Fixed

Max Ambient Temp (°F):

150°F

Height:

5-5/8"

Width:

2"

Depth (Inches):

2-1/8"

Well Included:

No

Mount:

Horizontal

Vertical

Temperature Range (F):

40°F to 180°F