1-1/2" Magnetic Stubby Nut Driver, Set of 2 (1/4" & 5/16")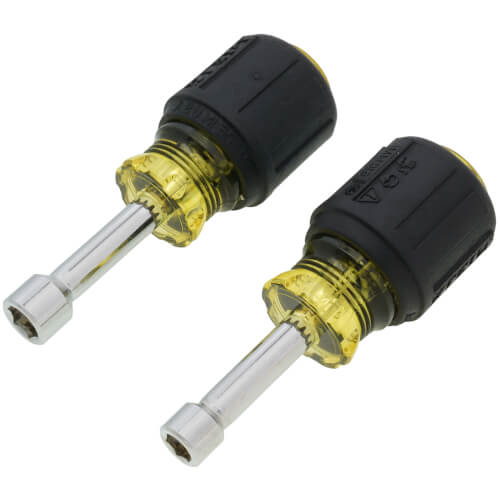 Hover image to zoom
In Stock
Order by 4PM, receive Monday
Free Shipping On orders over $99
Easy Returns No restocking fee for 90 days
1/4", 5/16"
Klein Magnetic tip nut drivers combine the power of rare earth magnets and the convenience of a hollow shaft design. This two piece set contains 1/4-Inch and 5/16-Inch hex sizes in stubby 1-1/2-Inch shaft lengths. The magnetic tips securely hold fasteners in place for one-handed operation. Great for working in close quarters.
Specifications:
Stubby nut drivers allow for work in close quarters
Exclusive hollow shaft design with Rare Earth magnetic tip features unobstructed pass-through
Set contains: 1/4-Inch (610-1/4M) and 5/16-Inch (610-5/16M) hex sizes
Handles are color coded for easy identification
Internal flanges provide solid, twist-resistant shaft anchor
Cushion-Grip handles allow for greater torque and comfort
Made in the USA
Product Type:

Nut Driver

Shaft Length:

1-1/2"

Size:

1/4"

5/16"