Evergreen EM Replacement Blower Motor, 1/2 HP (208-230V)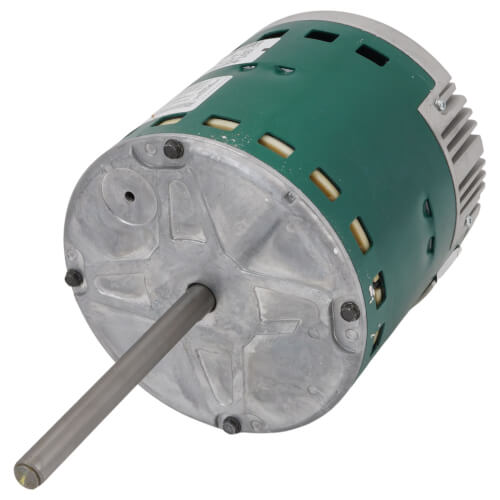 Hover image to zoom
In Stock
Order by 4PM, receive Tuesday
Free Shipping This item ships free
Easy Returns No restocking fee for 90 days
208/230v, 230v, 208v
1075 RPM
Reversible
1/2 HP
Round
4.1 Amps
Benefits:
Standard ECM Replacement (Does not replace premium ECM constant airflow products such as Eon, 3.0, 2.3, and 2.5)
Maintains ECM-level Efficiency up to 80%
Soft Start and Off Ramp for quiet operation
Alternate use for Commercial Building Series VAV Box and Packaged Heat Pump Retrofit/Upgrade Motor for a PSC system (Refer to Evergreeen EM Instruction Manual)
Encapsulated Electronics
4kV Surge Protection
Electronic Overload Protection

Specifications:


Multi-speed, constant torque, brushless DC motor
Available in 115V or 208-230VAC single-phase input, 50/60Hz
Designed to replace direct-drive blower motors in residential and light commercial indoor furnaces, air handlers, and package systems that were designed with a standard ECM motor, such as an X13 or equivalent competitor model.
Available in 1/3, 1/2, 3/4 and 1HP ratings
Automatically determines motor direction using Genteq's Rotation Sensing Technology.
5 discrete speeds using 24VAC (3 using 18VDC) Low voltage signal harness provided with the motor. Operating speed range of 600-1200 rpm
NEMA 48-frame (5.6 inch diameter) Belly Band Mount with 5-inch long 1/2" diameter shaft.
UL and CSA recognized component.
Horse Power:

1/2

Type:

ECM

Voltage:

208/230v

230v

208v

Phase:

1

Duty:

Continuous Air Over

Rotation:

Reversible

RPM:

1075

Mount:

Round

Bearings:

Ball

Amperage:

4.1

Enclosure Type:

Open Air Over

Poles:

12

Speeds:

5

Overload Protection:

None

Insulation Class:

B

Frame:

48

Max Ambient Temp (°F):

104°F

Motor Orientation:

Horizontal

Approvals:

UL