T410 White, Electric Heat Thermostat, w/ Pos Off Switch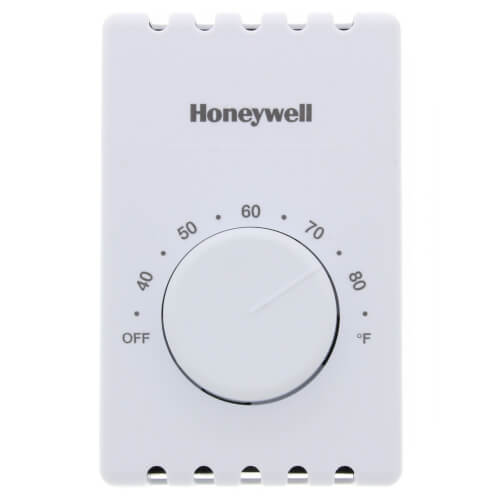 Hover image to zoom
In Stock
Order by 5PM, receive Thursday
Free Shipping On orders over $99
Easy Returns No restocking fee for 90 days
Non-Programmable
120v, 208v, 240v, 277v, Line voltage
1 Heat
Vertical
Hardwired
White
Economy thermostats that provide reliable line voltage control of resistive rated electric heating equipment. Snap-action switch makes heating circuit on temperature fall.
Specifications
Description: White Electric Heat Thermostat for Electric Baseboard Heat
Application: Baseboard
Programmability: Non-Programmable
Mounting: Vertical
Color: White
User Interface: Dial
Power Method: Hardwired
Stages: 1 Heat
Electrical Connections: 6" (150 mm) copper lead wires, suitable for connecting to aluminum wiring if approved CO/ALR solderless connectors are used.
Switching Action: DPST
Accuracy (C): 2°C
Dimensions: 4-1/2" high x 2-3/4" wide x 2-1/4" deep
Dimensions (mm): 115 mm high x 70 mm wide x 57 mm deep
Amps (120V): 22
Amps (208V): 22
Amps (240V): 22
Amps (277V): 19
Features
Replace virtually any two-wire (T410A) or four-wire (T410B) line voltage wall-mounted electric heating thermostat.
Easy to install. 6" (150 mm) color-coded leads.
Include long-lasting Micro Switch mechanism.
Rugged, plastic mounting base and one-piece cover with vents.
Ideally suited to new construction applications.
Color:

White

Width:

2-3/4"

Height (Inches):

4.5"

Voltage:

120v

208v

240v

277v

Line voltage

Programmability:

Non-Programmable

Switch:

DPST

Stages:

1 Heat

Amperage:

19

22

User Interface:

Mechanical

Power Method:

Hardwired

Application:

Heat Only

Electric Heat (Line Voltage)

Mount:

Vertical

Features:

Micro Switch Mechanism

Depth (Inches):

2-1/4"

Wattage:

2280 to 6094

Type:

Electric

Wiring:

6" Copper Leadwires

Max Temp (F):

80°F

Min Temp (F):

40°F

Temperature Range (F):

40°F - 80°F