1/2" Lead Free Mixing Valve, Union Sweat w/ Temperature Gauge (70-120F)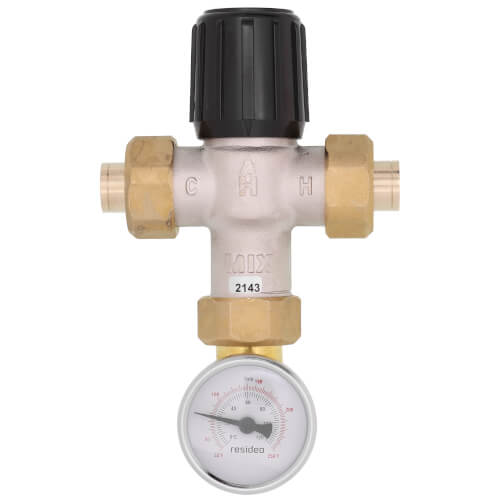 Hover image to zoom
In Stock
This item replaces: 
AM100C-USTG-1LF
Free Shipping This item ships free
Easy Returns No restocking fee for 90 days
C x C Connection
1/2"
1.8 Cv
120°F Max Temp
70°F Min Temp
70°F - 120°F
The AM-1 with Temperature Gauge allows for a fast & reliable way to complete installation, checkout and troubleshooting systems. The Honeywell AM-1 Lead Free series accurately adjusts, maintains and limits the hot water temperature to a desired setting selected by the user. In domestic water applications it offers scalding protection and bacteria growth control. By installing a Honeywell AM-1 mixing valve and raising water heater storage temperature setting and limiting mixed outlet water temperature to safe temperature more usable hot water is available. In heating applications it provides comfort and protects the equipment.
Features
Union Sweat adapter for easy attachment
2" removable temperature gauge
Readings in Celsius & Fahrenheit
Dual purpose mixing or diverting valves
Constant water temperature under changing operating conditions
Reliable performance at minimum flow of 0.5 gpm
Proportional valve (simultaneous control of hot and cold water)
Temperature limit at any point
Flow reduction in seconds if cold water supply is interrupted
Nickel-plated brass construction, EPDM O-rings
High performance thermoplastic proportioning shuttle
Straight through design (hot and cold at the same level)
Max. pressure 150 psi (1034 kPa)
Max temperature 212 F (100 C)
Designed for easy maintenance and element replacement. Teflon® coating of internal valve components to prevent mineral build-up and extend life.
Tamper-resistant design
Valve trapping not required
AM-1 Union STD & C and AM1070 Models include check valves on both hot and cold ports
ASSE, CSA and IAPMO listed
U.S. Patent No. 6,079,625
Specifications
Description: AM-1 1070 Series 1/2" Union Sweat
Connection Type: Union Sweat
Pipe Size: 1/2 in.
Operating Temperature Range: 70 F to 120 F
Capacity: 1.78Cv
ASSE: 1017
Size:

1/2"

Connection Type:

C x C

Connection Method:

Sweat

Flow Capacity (Cv):

1.8

Temperature Range (F):

70°F - 120°F

Min Temp (F):

70°F

Max Temp (F):

120°F

Type:

Mixing Valve

Application:

Point of Source

Point of Use

Standards Met:

ASSE 1070

ASSE 1017

Includes:

Gauge