40 Gallon - 38,000 BTU Defender Safety System PDX1 Power Direct Vent Energy Saver Residential Water Heater (LP Gas)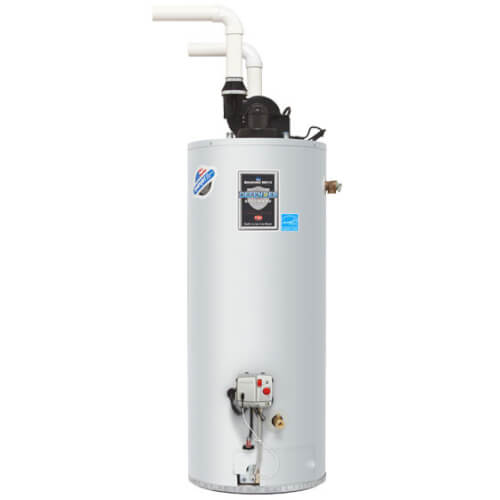 Hover image to zoom
Backorder
Get it 
Tue, Jun 20 - Mon, Sep 18
This item replaces: 
PDX1-40S6FSX
This product weighs 146 lbs. and may require the use of a lift gate. If you do require a lift gate at your delivery, you'll have the option to add this FREE of charge when you checkout.
Free Shipping This item ships free
Easy Returns No restocking fee for 90 days
Want it Sooner?

40 Gallon ProLine Power Direct Vent Residential Water Heater (LP Gas)
(0)
Backorder
Get it 
Tue, Jun 6 - Fri, Jul 7
VIEW ALTERNATIVE
VIEW ALTERNATIVE
Propane
Power Vent
40 Gallons
59.6875" Height
Yes
22" Diameter
The Power Direct Vent model is the solution to installations that lack sufficient air for combustion and require installation flexibility. The Power Direct Vent water heater can vent vertically or horizontally and is also approved for unbalanced, direct-vent closed combustion applications.
Features:
ENERGY STAR® Qualified - These models qualify for the January 1st, 2009 minimum ENERGY STAR® EF requirement, as well as most utility rebate programs.
Closed Combustion Venting System - Power Direct Vent models are ideal for installations which lack sufficient are for combustion, such as new construction homes or additions which are tightly insulated. These models use a twin pipe system where combustion air is drawn from outside the building in one pipe, and combustion products are expelled to the outside in another pipe.
Cast Aluminum Air Intake Boot - A cast molded air intake boot design provides exceptional durability during installation and operation.
Flammable Vapor Sensor - Electronic sensor prevents burner operation if flammable vapors are detected. The sensor will also prevent burner operation if there is an ongoing flammable vapor burn inside the combustion chamber.
Factory Installed Hydrojet® Total Performance System - Cold water inlet sediment reducing device helps prevent sediment build up in tank. Increases first hour delivery of hot water while minimizing temperature build up in tank.
Vitraglas® Lining - Bradford White tanks are lined with a exclusively engineered enamel formula that provides superior protection from the highly corrosive effects of hot water. This formula (Vitraglas®) is fused to the steel surface by firing at a temperature of over 1600ºF.
Electronic Gas Control - Integrated, immersion control offers precise temperature control for higher First Hour Delivery ratings, easy temperature adjustment and removal of gas valve without draining the tank. Also, an LED display provides real time status indication for diagnostic codes and start-up procedure.
Spark to Pilot Ignition System - Eliminates the constant burning pilot used on other water heaters.
Powerful Blower Motor - Our significantly quiet design has greater resistance to outside winds and the power to vent in many difficult venting situations.
Optional Concentric Vent Kit Termination - 2" termination fitting provides for only one exit opening through a wall or roof. (Subtract 10ft. for intake pipe and 10ft. for exhaust pipe when calculating total vent length.)
Horizontal and Vertical Venting - With 2" or 3" PVC, ABS, or CPVC. The equivalent feet of intake venting cannot be greater than the equivalent feet of exhaust venting.
1" Non-CFC Foam Insulation - Surrounds the tank surface, saving energy by retarding loss of heat.
Water Connections - 3/4" NPT factory installed true dielectric fittings extend water heater life and makes installation easier.
Factory Installed Heat Traps - Design incorporates a flexible disk that reduces heat loss in piping and eliminates the potential for noise generation.
Protective Magnesium Anode Rod - Provides added protection against corrosion for long trouble-free service.
T&P Relief Valve - Included.
Brass Drain Valve - Tamper proof design.
Design Certified by CSA International (formerly AGA and CGA).
Heater is a propane gas (LP) model and features a titanium stainless steel propane burner
| | |
| --- | --- |
| Intended Household: | 2-3 Person |
| Fuel Type: | Propane |
| Capacity (Gallons): | 40 |
| BTU Input: | 38000 |
| 1st Hour Delivery (Gallons): | 72 |
| Vent Type: | Power Vent |
| Height (Inches): | 59.6875" |
| Diameter (Inches): | 22" |
| Depth (Inches): | 30-1/2" |
| Weight (lbs): | 156 lbs |
| Energy Factor: | 0.70 |
| Energy Star Rated: | Yes |