40 Gallon - 40,000 BTU Defender Safety System Atmospheric Vent Energy Saver Residential Water Heater (Nat Gas)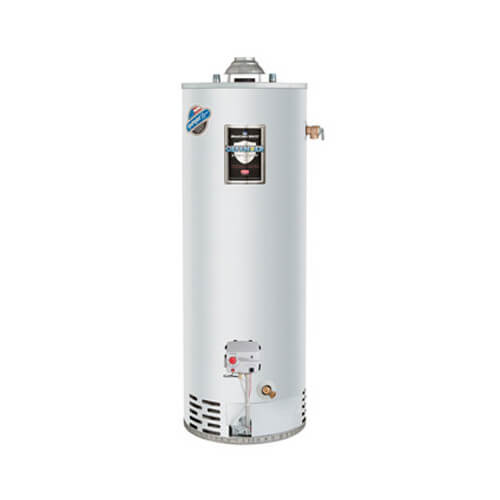 Hover image to zoom
In Stock
Get 37 
Fri, Dec 8 - Tue, Dec 12
This product weighs 145 lbs. and may require the use of a lift gate. If you do require a lift gate at your delivery, you'll have the option to add this FREE of charge when you checkout.
Free Shipping This item ships free
Easy Returns No restocking fee for 90 days
Natural Gas
Atmospheric
6 Year Limited Tank/ 6 Year Limited on Component Parts Warranty
40 Gallons
51.5" Height
No
This Bradford White water heater utilizes a draft diverter and is atmospherically vented. It is perfect for many standard water heating applications.
Features:
Bradford White ICON System - Intelligent gas control with proven millivolt powered technology and built-in piezo igniter. A standard, off the shelf thermopile converts heat energy from the pilot flame into electrical energy to operate the gas valve and microprocessor. No need for external electricity.

Enhanced Performance - Proprietary algorithms provide enhanced First Hour Delivery ratings and tighter temperature differentials.
Advanced Temperature Control System - Microprocessor constantly monitors and controls burner operation to maintain consistent and accurate water temperature levels.
Intelligent Diagnostics - An exclusive green LED light prompts the installer during start-up and provides ten different diagnostic codes to assist in troubleshooting.
Pilot On Indication - Flashing green LED provides positive indication that pilot is on.
Separate Immersed Thermowell - High strength advanced polymer composite thermowell provides isolation between electric temperature sensor and surrounding water. No need to drain the tank when removing gas valve.

Advanced ScreenLok® Technology Flame Arrestor Design - Flame arrestor is designed to prevent ignition of flammable vapor outside of the water heater.
Resettable Thermal Switch - Proven and reliable bimetallic switch prevents burner and pilot operation in case of ongoing flammable vapor burn inside of the combustion chamber or restricted air flow.
Maintenance Free - No regular cleaning of air inlet openings or flame arrestor is required under normal conditions.
Sight Window - Offers a view into the combustion chamber to observe the operation of the pilot and burner.
Factory Installed Hydrojet® Total Performance System - Cold water inlet sediment reducing device helps prevent sediment build up in tank. Increases first hour delivery of hot water while minimizing temperature build up in tank.
Vitraglas® Lining - Bradford White tanks are lined with a exclusively engineered enamel formula that provides superior protection from the highly corrosive effects of hot water. This formula (Vitraglas®) is fused to the steel surface by firing at a temperature of over 1600ºF.
2" Non-CFC Foam Insulation - Covers the sides and top of tank, reducing the amount of heat loss. This results in less energy consumption, improved operation efficiencies and jacket rigidity.
Pedestal Base.
Water Connections -3/4" NPT factory installed true dielectric fittings.
Factory Installed Heat Traps.
Protective Magnesium Anode Rod.
3x4 "Snap Lock" Draft Diverter - Allows either 3" or 4" vent connections with inputs of 40,000 BTU/Hr or less. Over 40,000 BTU/Hr. has the 4" "Snap Lock" Draft Diverter.
T&P Relief Valve - Included.
Brass Drain Valve - Tamper proof design
| | |
| --- | --- |
| Intended Household: | 2-3 Person |
| Fuel Type: | Natural Gas |
| Gas Connection: | 1/2" |
| Capacity (Gallons): | 40 |
| Water Connection: | 3/4" |
| BTU Input: | 40000 |
| Recovery Efficiency: | 79% |
| 1st Hour Delivery (Gallons): | 74 |
| Warranty: | 6 Year Limited Tank/ 6 Year Limited on Component Parts |
| Vent Type: | Atmospheric |
| Vent Size: | 3 x 4 |
| Application: | Plumbing |
| Height (Inches): | 51.5" |
| Diameter (Inches): | 22" |
| Weight (lbs): | 141 lbs |
| Energy Factor: | 0.62 |
| Energy Star Rated: | No |
| Max Altitude (Feet): | 2000 |